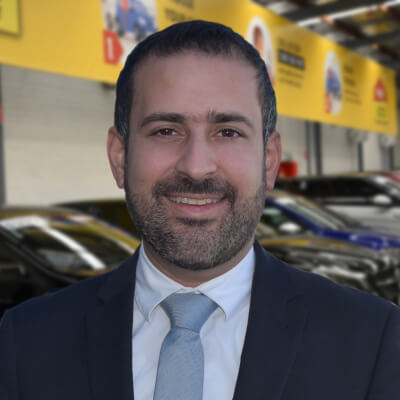 Sam Abou Ayache
Business Manager
Languages spoken: Arabic, English
My name is Sam, and I have been part of the Melbourne's Cheapest Cars/ Tradies Heaven team for over a decade now. I started my career with the company in sales, where I quickly developed a passion for the automotive industry. In my first three years with the company, I sold cars with ease, and my ability to build strong relationships with customers helped me become one of the top-performing sales consultants.
After three years in sales, I decided to transition to finance, where I could use my knowledge of cars and sales skills to help customers secure car loans and navigate the complex paperwork involved in purchasing a car. As part of the finance team, I have been able to help many customers make informed decisions about their car loans, explaining complex financial terms in a way that is easy to understand.
Over the years, I have developed a deep understanding of the automotive industry, including the latest trends and technologies. My extensive experience in both sales and finance has helped me provide customers with the best possible service, whether they are buying their first car or upgrading to a new one.
I am proud to work for a company like Melbourne's Cheapest Cars/Tradies Heaven, which is committed to providing affordable and reliable cars to its customers. The company's focus on transparency and customer satisfaction has always been a top priority, and it is reflected in the positive feedback we consistently receive from our clients.